SAILOR SNUG HARBOR
"A rare surviving example of urban planning, landscaping, and buildings in the Greek Revival style, unequaled in the United States for scale, extent, and quality." -National Historic Landmarks Statement of Significance
One of New York City's most unexpected and extraordinary destinations is located on the north shore of Staten Island, just minutes from the Staten Island Ferry. Snug Harbor is a cultural center set within an 83-acre National Historic Landmark district containing the finest collection of Greek Revival buildings in the United States, plus Beaux Arts, Italianate and Victorian style architecture. Each building has individual merit, but the harmonious effect of twenty-six historic buildings set in acres of parkland is wholly remarkable. Snug Harbor exists today because of the tireless efforts of citizens to save it from destruction a generation ago, and then to transform the deteriorated buildings of a seamen's retirement home into a center for the arts.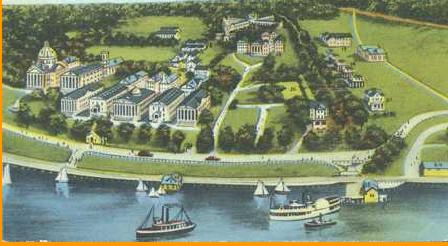 Postcard of 1898 bird's eye view of Sailors' Snug Harbor, located across the Shore Road from the Kill van Kull. The seamen's retirement home was then a world within a fence: dormitories and dining halls in the five front Greek Revival buildings, the domed Randall Memorial Church and adjacent Music Hall, a large hospital and four-winged sanitarium towards the rear of the site, plus laundry, blacksmith's shop, farm buildings, morgue and other service buildings. Courtesy of Channell Graham collection. Surrounded by a tall iron fence, shaded by century-old Norwegian maples and Austrian pines, Snug Harbor Cultural Center is not only one of the most architecturally and historically significant sites in the country, it is a place where history, architecture, the visual and performing arts, environmental science included in performing arts all come together to provide a rich and powerful learning experience for audiences young and old. The Newhouse Center for Contemporary Art has exhibitions in 15,000 feet of gallery space, plus outdoor and off-site projects, educational programs, 30 artists studios on site and an international artist residency program. To learn more about exhibitions and events at the Newhouse, click here. Throughout the year, the Performing Arts Program offers music, dance and theater, indoors and outdoors for audiences of all ages. Whether you prefer classical or cutting edge, thereís something to see at The Harbor. To learn more about upcoming performances, click here. Young people often come to know The Harbor through the Education Department, which develops workshops that capitalize on current art exhibitions and performing arts programming, as well as Snug Harborís storied past. To learn more about the Education Departmentís, click here. More information about Landmarks Sailors' Snug Harbor: A World Within a Fence When Sailors' Snug Harbor opened in 1833, it was the first maritime home and hospital for retired seamen in the United States, a privately endowed institution where old sailors were offered lodging, food, healthcare, and companionship. Benefactor Robert Randall's wealth had come from the sea and he left most of it to the class of men whose labor had built his fortune.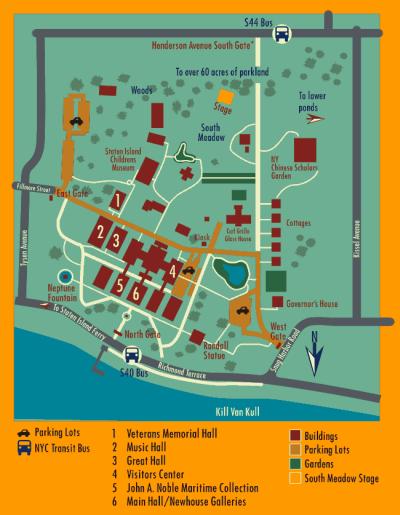 On September 12, 1976 the gates to the grounds of Snug Harbor were thrown open to the public for the first time. Over 17,000 people came to celebrate what had been accomplished and to envision the future.
Go back to Michelle-Nicole's Page