THE STATEN ISLAND ZOO
For over half a century generations of families have enjoyed frequent visits to the Staten Island Zoo because there is so much to see, so much to learn, and so much to love.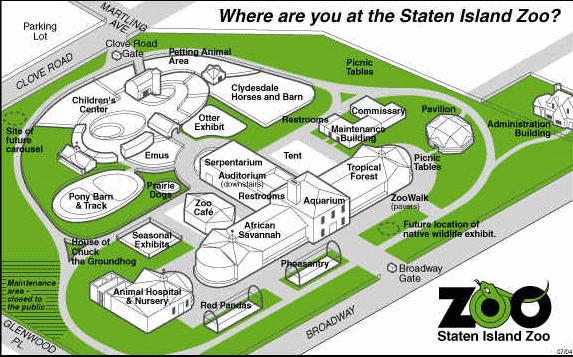 The African Savannah At Twilight After years of planning and development, the Staten Island Zoo's new "African Savannah" exhibit is open to the public. The state-of-the-art facility highlights a number of exotic animals - all native to the vast grasslands of central and southern Africa. Leopards,mandrills, lizards, and antelope join several lesser know species in a amazingly realistic representation of the African plains. The savannah is a world of incredible diversity. Warm year-round, this tropical grassland's seasons are marked with extreme changes in rainfall. The creatures which inhabit this part of the world are especially suited, or adapted, to live here. It is this precise match of form, function, and environment which the Zoo attempts to highlight in the "African Savannah".
Enter the African Savannah Exhibit The Ralph J. Lamberti Tropical Forest is a multi-million dollar representation of an endangered South American tropical forest. This natural habitat is an exciting combination of flora and fauna. Visitors become totally absorbed in this realistic setting--where Zoo animals and passers-by seem to intermingle along a meandering boardwalk.
The N.Y. State Senator John J. Marchi Aquarium is a wrap-around aquatic experience with marine life from all over the world. This state-of-the-art exhibit brings a variety of aquatic life -- ranging from shrimp to sharks out to meet you.
The Children's Center A New England farm setting is the backdrop of the Children's Center as you walk across a covered bridge which overlooks a newly renovated duck pond. Here you will be able to meet an exciting array of international domestic farm animals.
The Serpentarium houses an internationally acclaimed display of reptiles including one of the most extensive collections of North American rattlesnakes.
Outdoor Exhibits provide glimpses into the animal kingdom while strolling the grounds. Watch ponies trot the track behind their Kentucky-style barn, or flamingos wading in their pool. Giggle at the antics of a playful otter or prairie dog. Marvel at the beauty of a peacock as he strolls by you.
Go back to Michelle-Nicole's Page