Sean left this morning, after a fantastic visit, so here is a review of Sean's last day (Dec 23, 2003) in Pasadena. If you look closely, you'll find one tiny photo taken this morning (December 24) as he departed at 6:25 am for LAX.
Sean said:'I've just been here living for a week in dreamworld!'
(We didn't really have a volcano today, we just went to the Huntington Library and Gardens, and saw this painting.)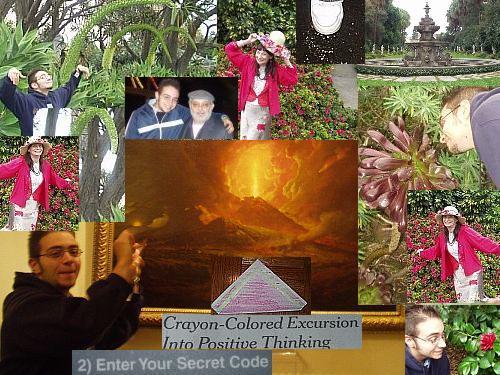 It really was a rainy day, although with these cheerful photos it will be hard to convince you of any dreariness. Kathy always dresses even more colorfully to counteract any such weather. We went back to the Huntington because there is so much to see there, and we had not even stepped into any of the galleries last time. We could not resist walking around in the light drizzle outside anyway. Kathy showed Sean the spot where Rick proposed to her, on a stone bench in front of this wonderful fountain. We call the statues our 'witnesses'. You can see it in the upper right corner. To the left of the fountain you can see Sean's white sneaker in a puddle to prove it was raining. Rick had to go into the office so he drove us there and then had a chance to meet with students.
We were there at the right time to go into the 'Conservatory,' open just two hours a day, where amazing cacti and succulents are grown. Below is a selection!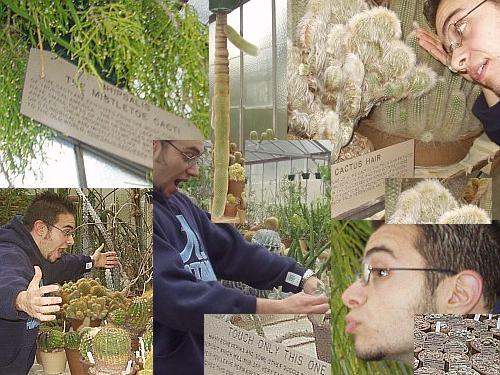 You'll see below on the upper left, Kathy and Rick's pasta substitute, thinly sliced cabbage with tamari and toasted sesame oil. We learned about it Kyoto, where it was served to us often, even at breakfast, which is our tradition. Sean really enjoyed it. We went to a different Indian restaurant buffet (Sitar) to round out the trip, and then for dinner we had an enhanced mini-pizza left over from the party and Kathy cut the last brussel sprouts off the giant stalk. Sean says 'Why do these have such a bad rap? Because they are little round balls? I wouldn't even try them when I was a kid.' But he loves them now. We have to say that if you can get them on the stalk (sometimes available at farmer's markets,we got it at our local natural food store) they taste best! At the end of the evening Rick said 'stand back!' and made his special popcorn.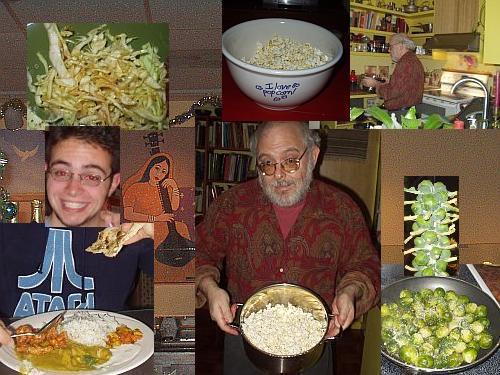 While we had pizza and popcorn, we finished the movie video we watched in installments over Sean's visit: The Gilbert and Sullivan operetta'The Pirates of Penzance' with Kevin Kline and Linda Ronstadt. Sean was not sure if he should like it, but after a while he was laughing along with us. He had to get used to our installment style of watching movies...we always need to go make a web page or something! See below for some views into the action. Rick took these photos of the TV screen at favorite moments, and Kathy did a collage...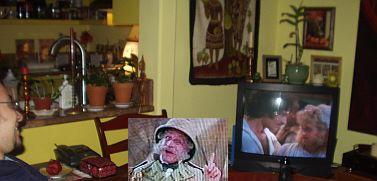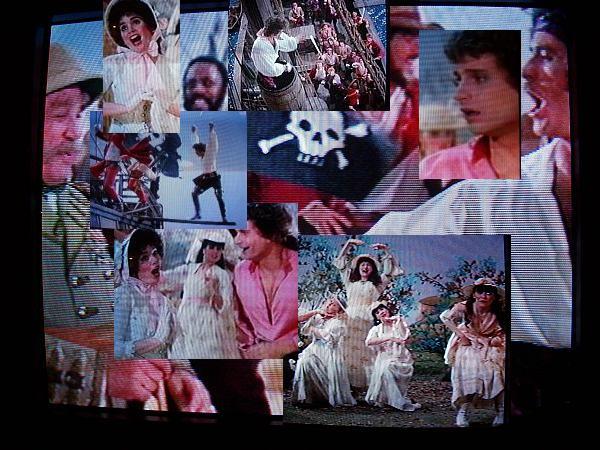 After 'The Pirates' it was time to take packing seriously, and to review the trip. The heart of the visit was the time with'granmama,' who was so important in his childhood, and has given him much love and encouragement. She wrote this note in his journal. You can see him packing up in the guestroom, and thinking about the 'hot tub.' Here pictured is his last dip...it was drizzling and dark last night, but lured him anyway.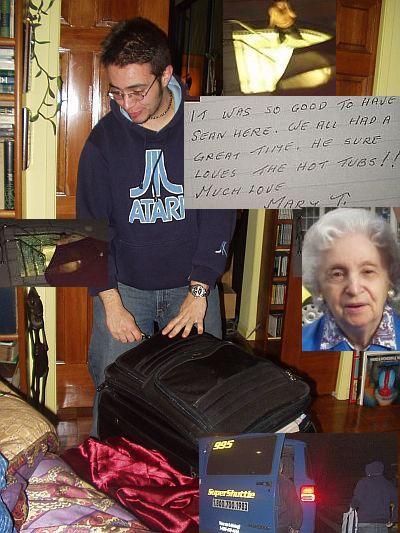 After our Huntington visit, we took our last long walk home. Sean says Kathy walks really fast, and moves her arms. Kathy says you have to put on your wings before you start. Here (at the lower left) Sean is studying the huge Audobon 'elephant folio' at the Huntington.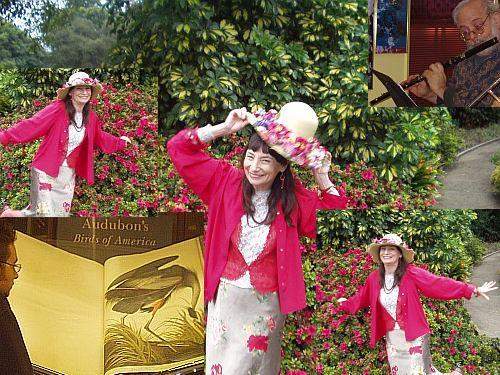 Thanks for the great visit, Sean. We had fun. We will always welcome you, and be your friends!!