Here's a quick review of Sean's day in Santa Barbara: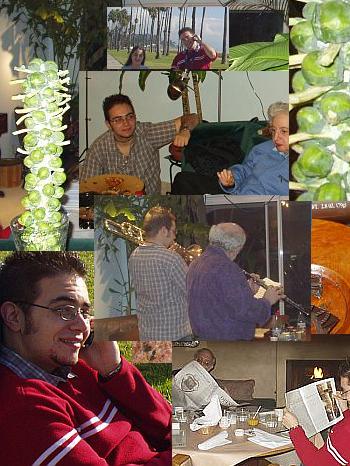 The highlight of the day for Sean was being with 'Grandmama!'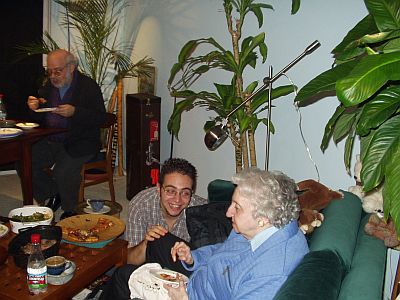 Our day begins with coffee and some tiny pieces of our favorite chocolate. Sean has been enjoying our chocolate ritual, and even though he doesn't drink coffee, he loves the taste of this chocolate.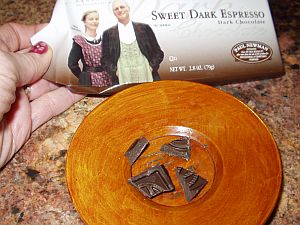 We had to get up really early ...to get out at eight a.m. we get up at six. Sean got up at seven and jumped in the hot tub. The morning was overcast, and it drizzled on him while he soaked.
Before long we were off on the hour and a half drive to Santa Barbara.
After we put Kathy's display items in her space at the beach show, we went to Cafe del Sol, our favorite breakfast place, and neice Sara joined us for the newspaper ritual by the fire. Later Colleen arrived and treated veryone to breakfast.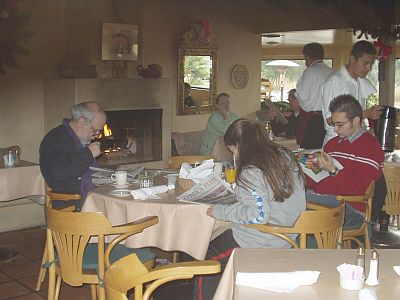 After we unpacked, and showed Sean our beautiful Santa Babara home, Kathy, Sara and Sean walked alon the ocean front from our place through Palm Park and past all the artists at the 'Beach Show.' Kathy set up her display, and Sara and Sean took a longer walk, and had a grand time together.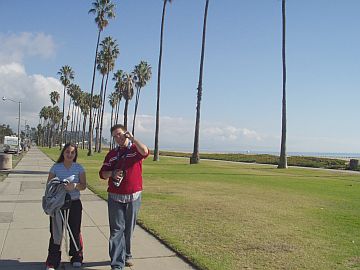 They stopped balk later to relax, and both talked on their sell phones!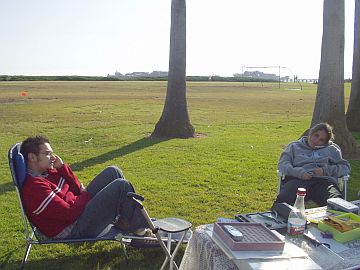 After a walk along the beach they took a trolly downtown to grandmama's house, and surprised her. Grandmama was so happy!!
About 5:30 pm, Maureen brought Sean, Sara and Grandmama over to Kathy and Rick's where Kathy was preparing another feast: mini racks of lamb with mustard-peanut sauce, variations of mini pizzas, with pepperoni, shitaki mushrooms, onions, olives rice and soy cheese, and parmesan. Brussel sprouts, cut off the giant stalk just before cooking with a vegetable broth, parmesan sauce.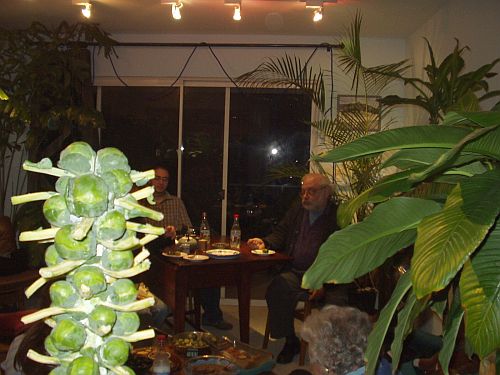 and fresh green beans cooked with toasted almonds. Grandma's eyes lit up hearing the trombone solo,(Telemann) then duets with Sean and Rick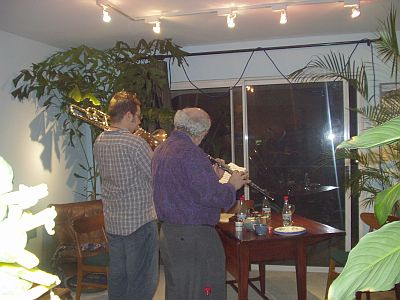 and some Klezmer pieces we have been preparing, Sean and Rick, and Kathy singing and playing percussion. Unphotographable. (but Sean got it on videotape, thanks to grandmama) was the wildly rendered Jewish theater song "Oi Mamme, bin ich farliebt' (Oh, Mama, I am in love!)
Kathy accompanied herself on the virginal singing 'The Old Orange Flute'.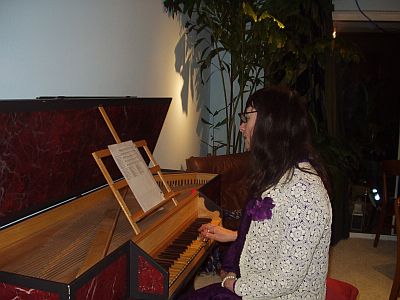 Sara did two solo pieces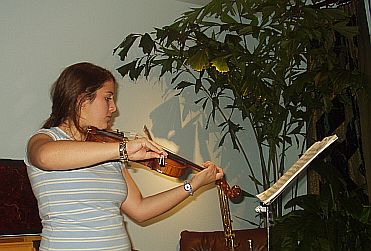 Sean tried another instrument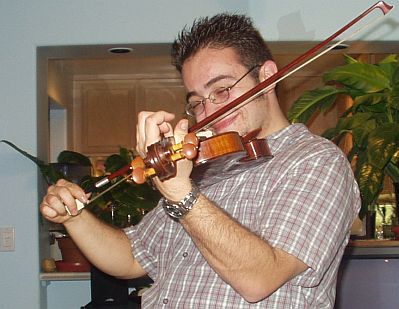 Maureen and Sara took Sean home for the night (It was okay, they have a hot tub.)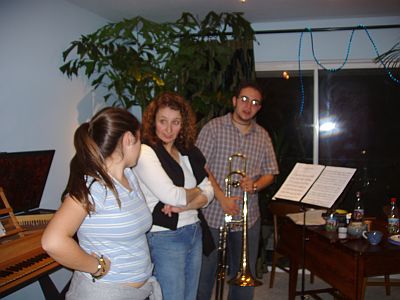 Sean's back at our place now, in Santa Barbara, he's in the pool and hot tub...got to run and take a photo!