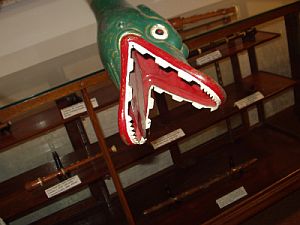 Here's a quick review of Sean's third day in Pasadena: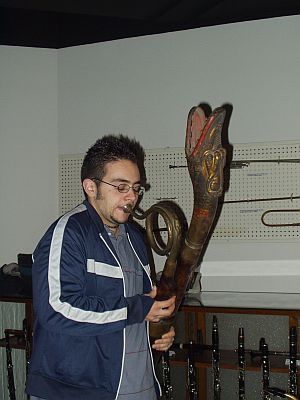 The heart of the day was our visit to the Fiske Museum of Musical Instruments. This was a rare treat for everyone concerned. The museum is on the campus of the Claremont Colleges, and our friend Al Rice, the curator gave us a guided tour of its excellent collection of brass instruments. The museum is open by appointment only. Al enjoyed Sean's abilities and interest. It is rare that museums allow instruments to be played, but here, Sean was able to let us hear all their individual voices, usually silent in glass cases... First we took the half hour ride to Claremont.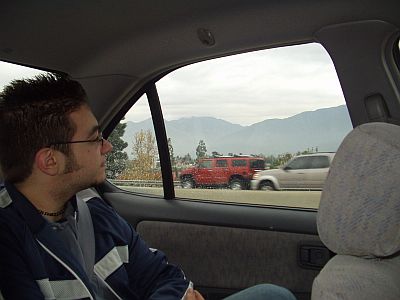 Of couse that was preceeded by the early morning dip in the pool and hot tub
And a look at the cheerful email messages from friends!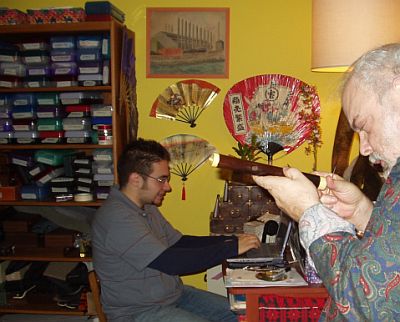 Wish we could tell you the whole story of these beautiful instruments now, but Kathy has to get some sleep so we can go to Santa Barbara tomorrow! But they are mostly 19th and early 20th century horns, trumpets, and trombones, and some are even earlier.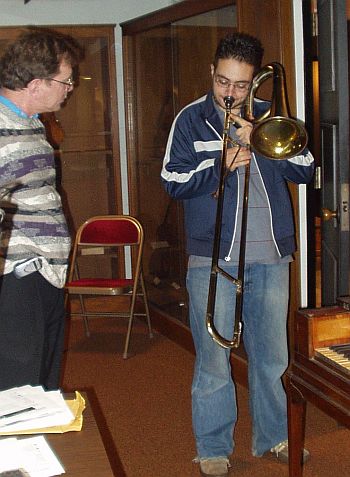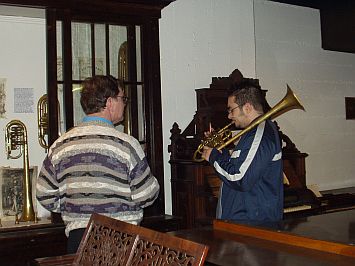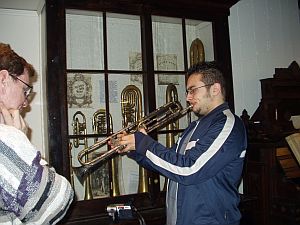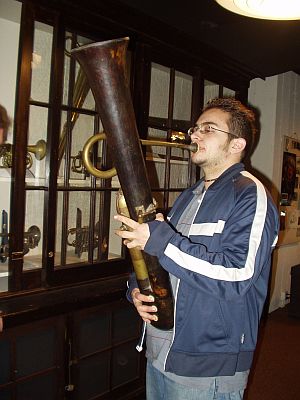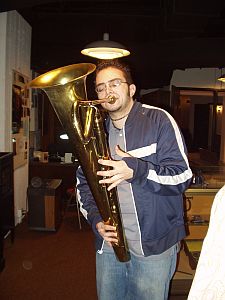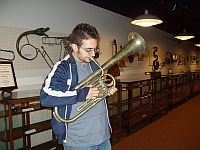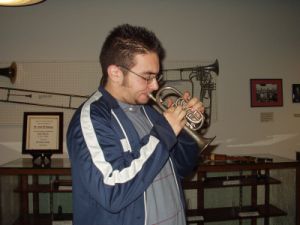 Above our heads is the largest trumpet in the world!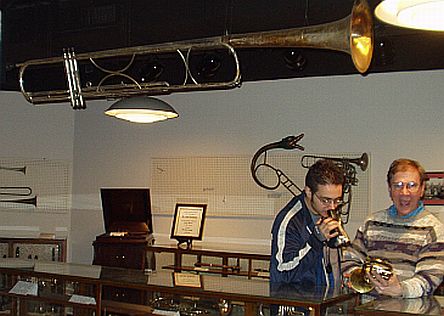 We had lunch with Al and his wife at an Afgan restaurant in Claremont.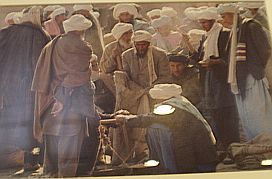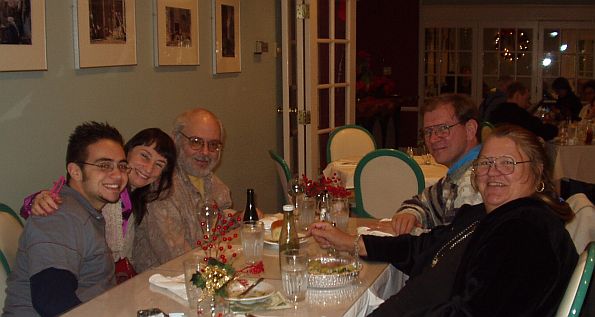 Afterwards, we went to a favorite shop in Claremont, where instruments from all over the world have congregated. Rick bought Kathy a Vietnamese Dan Mo...a complex Vietnamese percussion instrument. (not pictured). Sean looks happy in this world.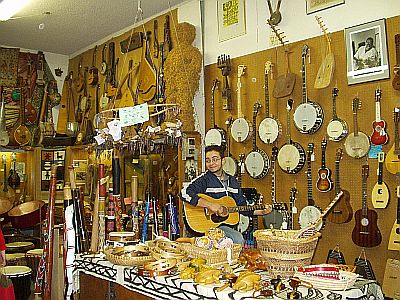 When we got home, after a short nap, Kathy made a curried tofu dish that disappeared so fast we could not take a photo. (Sean loved it.) See recipe below.
Every time Sean goes from the living room to the guest suite, he draws on the 'zen board.' The drawing, made by painting with water, disappears in five minutes. After he came back from the evening hot tub dip, he went in for a shower while the picture was disappearing.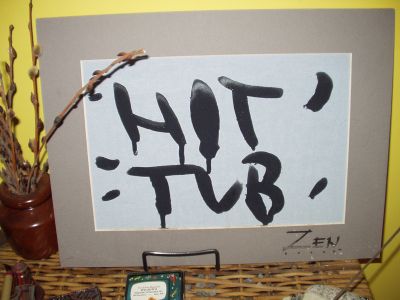 Sean took this photo of Kathy at her worktable, after dark, preparing some customer orders.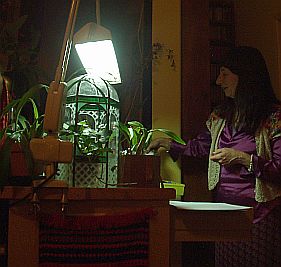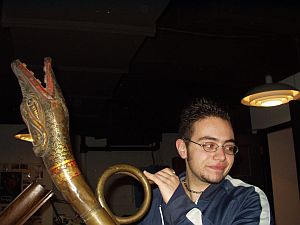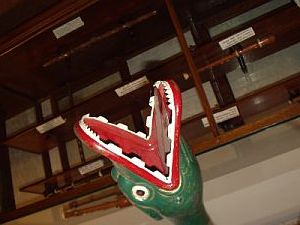 When Kathy and Rick woke up at the beginning of this day, they found that Sean had slipped this drawing, obviously a picture of yesterday's visit to the Huntington Gardens, under our bedroom door. What visions will dance in his head tonight?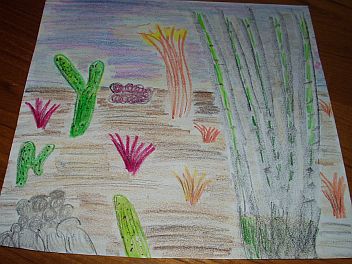 Recipe for Kathy's spicy curried tofu
Cook together quickly in some sesame oil: a large chopped onion, four cloves of chopped garlic, about a third of a cup of toasted sesame seeds, handfuls of roasted cashews, and toasted pecans, some artichoke hearts, a couple of sliced hearts of palm, oregano, thyme, lots of good curry powder and crushed red pepper, some tamari, and a pound of chopped firm tofu, enough water or other liquid to make it saucy. Serve over thinly sliced green cabbage. Serve with chopsticks, unless you are watching Gilbert and Sullivan's 'The Pirates of Penzance,' then you may want a fork.
Follow with mixed berries and sour cream or yogurt for dessert.