POETRY READING IN PASADENA
Thursday, December 29, 2005
Poets Published in the San Gabriel Valley Poetry Calendar
Backroom of the Santa Catalina Branch of the Pasadena Public Library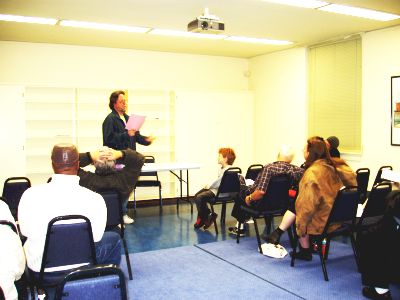 Don Kingfisher Campbell reading his poem "Ontology Recapitulates Phylogeny"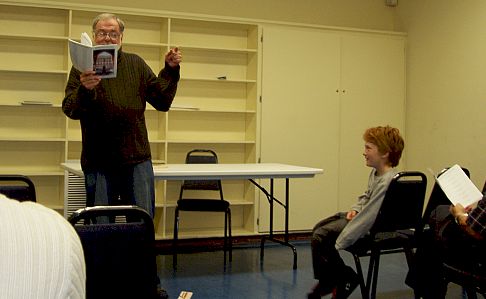 Calokie reading his poem "Bookstore [Bleep]". Poet Toti O'Brien's son, on the right, one the prize for "most attentive listener" at the poetry reading.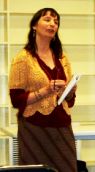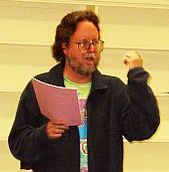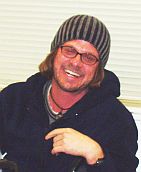 Kathleen Wilson read her featured poem "Night Watches", Don Kingfisher Campbell (center) also read "Derma Slave" one of the inspired poems written during his holiday visit to New Mexio, and Scott Kaestner, after reading his featured poem, "Alive" posed as a cat and recited his dynamic cat poem which ends with the "purrrr" pictured here.

The evening ended with a duo reading of one of Kathleen Wilson's "Traveling Poems". This is the first one written for two voices, and her husband Rick Wilson spoke the second voice. (Thanks to poet Therea Antonia for taking this photo. Theresa's poem "Burning Desire" is featured in the Calendar.) Poets featured are: MICHELLE ANGELINI, THERESA ANTONIA, GARY BLANKENSHIP, JACK BOWMAN, DEWELL H. BYRD, CALOKIE, DON KINGFISHER CAMPBELL, BRANDON CESMAT, DENISE EMANUEL, THOM GARZONE, URSULA T. GIBSON, ORANIA HAMILTON, MARILYN INJEYAN, JOANNE ISAACS, JEFFRY JENSEN, JERRY JEROME SCOTT C. KAESTNER, DEBORAH P. KOLODJI, PAM LAWRENCE, LEAH, REBECCA LE PAGE, ELLARAINE LOCKIE, RICHARD MELLOTT, J.D. NELSON, TOTI O'BRIEN, KIRSTEN OGDEN, CLAUDIA PEREZ, ALICE PERO, DAVID W. RUSHING, RYFKAH, LISA MARIE SANDOVAL, LARRY SCHULZ, DEBORAH SHAPIRO, NANCY SHIFFRIN, LESLIE SILTON, TOVA STERLING, JUDITH TERZI, MARY TORREGROSSA, JEANNINE VEGA, KATHLEEN WILSON, LISA WONG.