A Visit to Nadereh's Parents (Iran, August, 2003)
While in Tehran we had the honor and pleasure of visiting an Iranian home. Our friend Nadereh and her husband David, sell their handmade art glass kaleidoscopes at the Santa Barbara Beach Show. They have been friends of Kathy's for years. Nadereh's Mom, who lives in Tehran,visited the USA for the first time a year ago, and spent Sundays keeping Nadereh company at the beach show. Kathy and Nadereh's Mom were very fond of one another, even though they could not speak the same language. We loved her smiling eyes peeking out from under her headscarf, and Kathy affectionately called her 'Mama' which she understood, and nodded happily. When we were invited to Iran for this mathematical conference, an unexpected treat was the possiblity of visiting 'Mama' in her own country! Nadereh encouraged us, and we took the phone number and address with us. We got assistance from IPM to make the trip, and our translator Mandana followed up on the invitiation for us arranging a time and fitting it (just barely) into our crowded schedule of conference events and extra events already planned. It was fun to listen to Mandana talking to 'Mrs. Mamoori' in vivacious Farsi!
It was a 45 minute drive from our guest house to her home, through incredible rush hour traffic with almost no stoplights. But our friend photographer Tania, dressed in her traditional black head scarves and black topcoat and pants lived near their home, and knew the drive well. It was a happy reunion!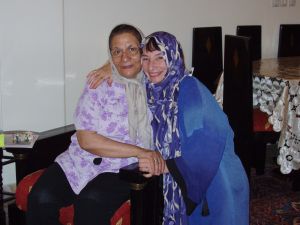 We were so grateful to Mandana, who accompanied us, and made the visit so rich, because we were able to really communicate.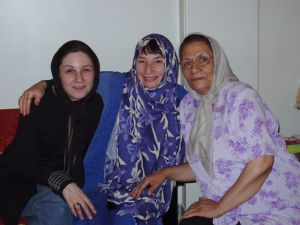 Their home was,as you can see, incredibly beautiful. It is large, marble floored, with exquisite carpets, beautifully decorated and gracious. In Iran an elegant inner world is often hidden behind a plain exterior. You would not know from the simple exterior of the apartment building what one would find inside.
Nadereh's Dad is in the carpet business, so the carpets are exceptional. Mandana, who knows something of the differences in quality, told us they were very fine and rare. Nadereh's younger brother, Abbas, who is very interested in mathematics, and works in accounting, is in this picture too. We enjoyed his company too.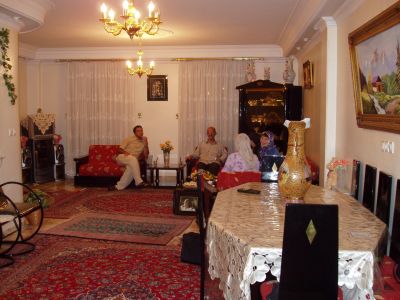 We could not go for dinner, although we were invited, because of our schedule. But we were served a lovely orange drink made with essense of sweet orange and water, and later, tea. Also the traditional beautiful overflowing plate of Iranian fruits and small cucumbers. The cucumbers, which seem a small version of the long English cucumbers are always included in a fruit selection.There were pears, grapes, and a nectarine-like fruit that Mandana said was 'between a fig and a peach' and was also very good. 'Mama' fed us little cake-pasteries that looked like little wedding cakes, and Turkish candies, which were very good, and we had never tasted before. This is not the exact fruitplate, but a similar selection, served at a party.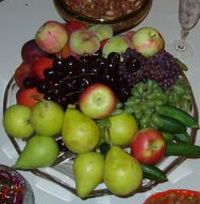 The family enjoyed bringing out photos of family, including Nadereh and David's beautiful daughter Nadia (also our friend) who lives in Los Angeles. Kathy made a family pendant for 'Mama', with all her family represented. We were so grateful for this wonderful visit and inside view of an exquisite home.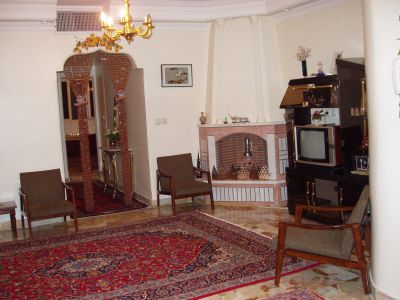 We had stepped into a special private world, of color and beauty, and their generosity allows us to share it with you.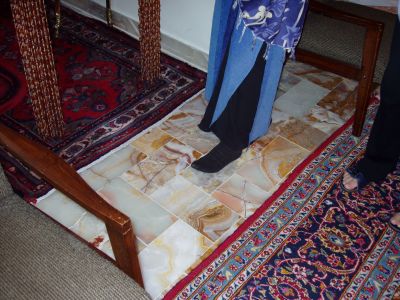 It was hard to say goodbye. We knew it would be for a long time. But it was a precious part of our visit to Tehran. There is nothing so real (transcending time and space) as friendship.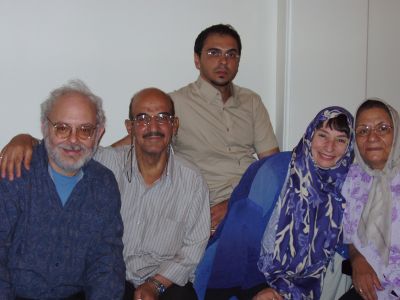 Nadreh's Dad sent her a kiss from afar.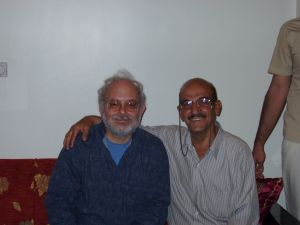 Here are our friends Nadereh and David Sugich, who made this possible.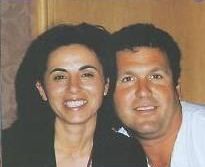 And here's a look into one of their wonderful kaleidoscopes!