VISITING ART GALLERIES IN TEHRAN

Here is an area of Tehran that you have not seen before! It was new to us too. We loved the rich greenery and beautiful buildings. Street trees and flowers are common throughout the city.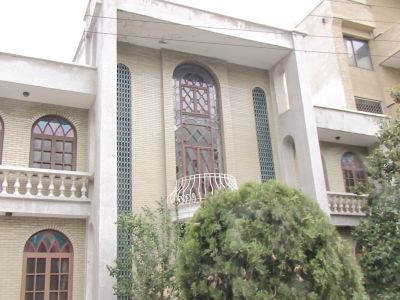 The day before we left Tehran, Reza Khosrovshahi's wife Laya Fazlollahi, a wonderful artist, (we bought on of her works during our visit in 2003) had the idea of taking us to art galleries she likes in the city, and there are many in this area.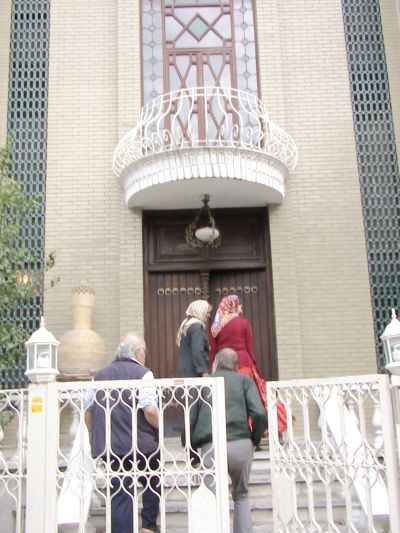 Laya shows her work in galleries in Tehran, and knows the gallery owners well. In front are Laya and Kathy, then Reza and on the right, our friend Willem Haemers, mathematician from the Netherlands, who came with us on this excursion too.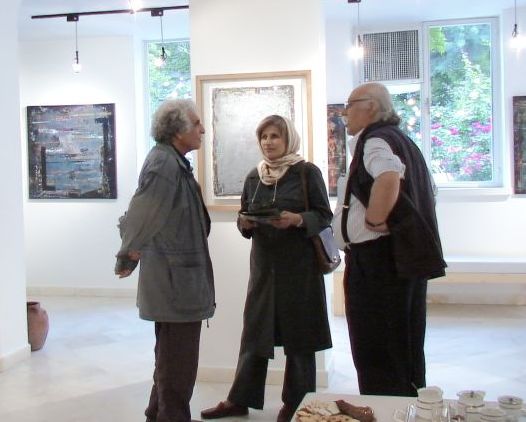 Here is the Mah Art Gallery, on the left, is the featured artist for this exhibit, painter, sculpter and muralist, Massoud Arabshahi. He is a famous abstract artist in Iran, his works are in great demand and sell for the equivalent of thousands of dollars. Here he is talking to our friend artist Laya and her husband Reza Khosrovshahi, our host, the director of IPM.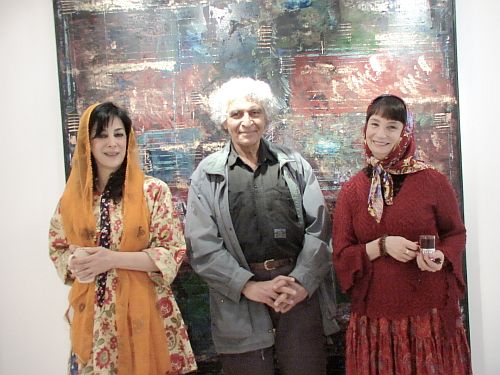 On the left is Shahnaz Khonsari, the beautiful owner of the spacious, elegant Mah Art Gallery. In the center the artist, standing before one of his paintings. His work is all abstract, and incorporates elements of ancient history and art by using tiny cuniform markings, and tends toward the future in a mysterious shapes and forms, with characteristic gold and silvers giving the paintings an alluring glow.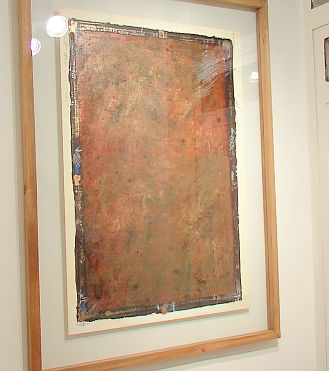 His newest works have a mysteriously suggestive, shimmering empty center...a hinting towards an unknown, surrounded by tiny cuniform markings that point outside the frame...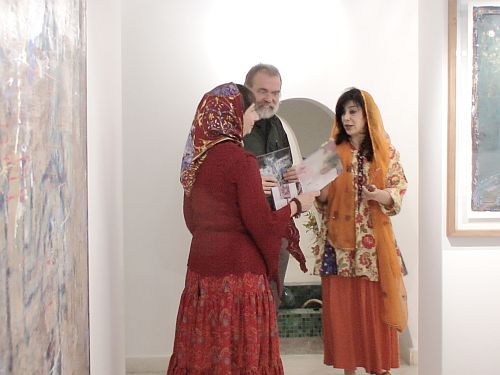 Our friend Willem in the center, enjoying the gallery visit, and discussions with the owner.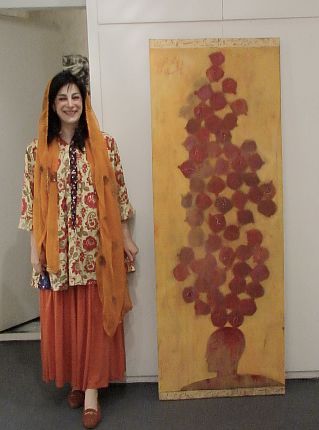 Beautiful posing appropriately with an attractive pomegranate painting by a woman artist, Farideh Lashai. Many of the works in the gallery were by women artists. This painting was attractive to us, as we have a large pomegranate painting in our living room already...(very different, also by a woman artist friend) but this was too big to carry home.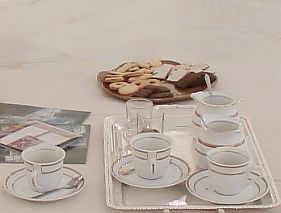 We were served lovely cups of tea and Iranian cookies.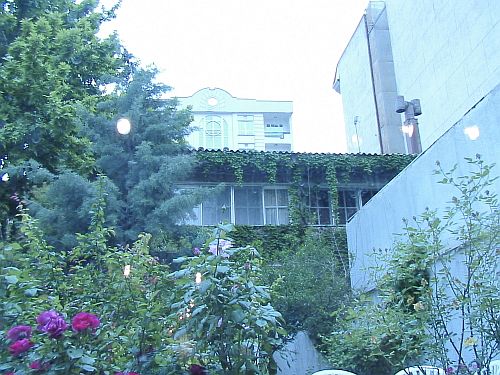 A short ride and we were at another gallery...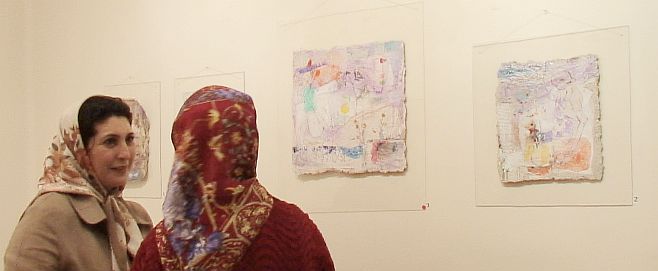 The warm, gracious, and knowledgeable owner of Day Art Gallery, Ferial Sahahshour, loved showing us her collection. Most of the paintings were by women artists.

Most of the works were abstract, mysterious, and beautiful.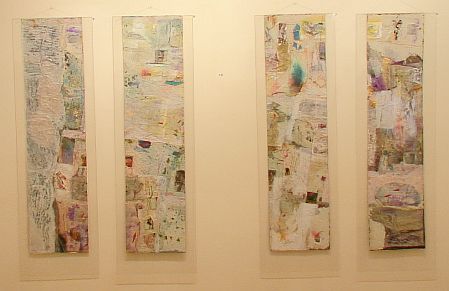 As well as abstract, many were multi media collage.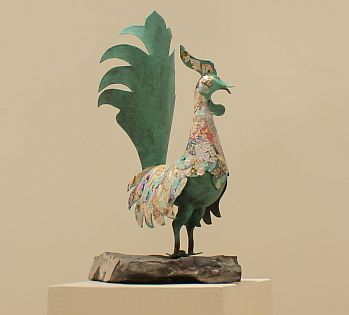 The metal sculptures were very inventive and colorful, and covered with tiny minature paintings.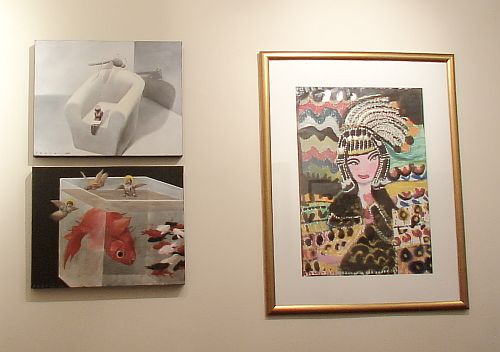 A bold and surreal feeling to some.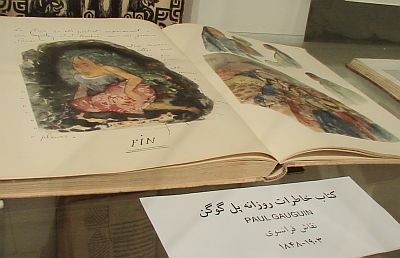 And a surprising and fascinating collection of western art...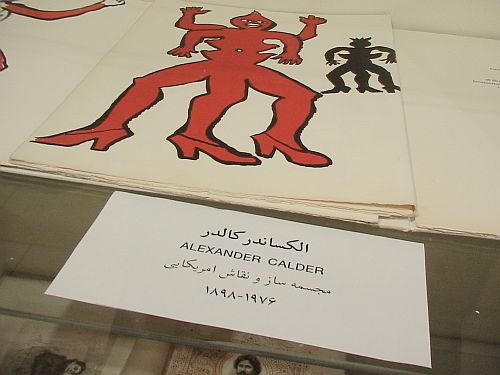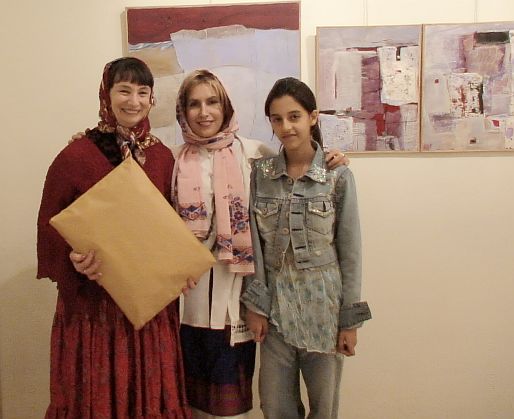 There was one work that really caught our eye, we fell in love with it, and luckily, they could package it well, and it was not too big for our budget or carry-on! Kathy with the lovely and wonderful artist, Farah Seid Abolghasem, and her charming and articulate daughter, Mahoor, at the gallery, holding our purchase. Everyone spoke English, and Majoor was good at math, as well.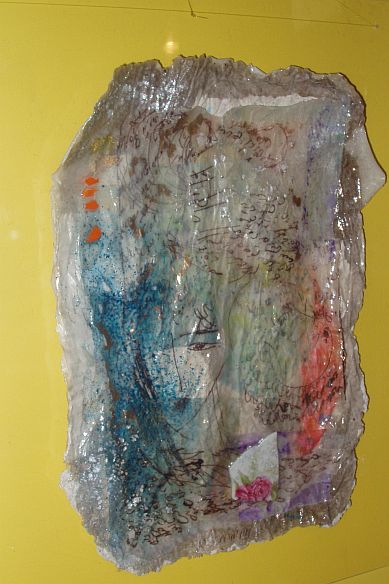 Here it is on our wall! It is a three-dimensional handmade paper-mache, collage, with inks, watercolors, and a floral piece of porcelain.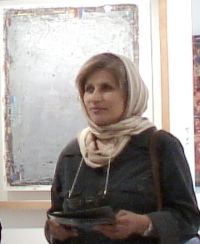 Thank you Laya, for our gallery day! What a rare and enlightening experience to share!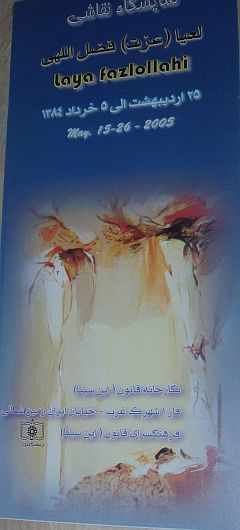 This is Laya Fazlollahi's artist business card.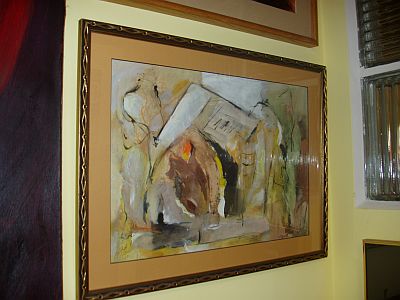 This is the painting by Laya we have on our home from our visit in 2003.
Go back to Our Trip Index