The Carpet Museum of Iran (August 2003)
We were fortunate to have the chance to visit, thanks to our hosts at IPM, this beautiful museum, unique in all the world. Located in central Tehran, it was a mini-bus ride from our guest house in the northeastern corner. The carpets date back to the 10th century. We saw this late 13th century carpet, a hunting scene, from the very old area of Kashan, a small oasis city between Tehran and Isfahan.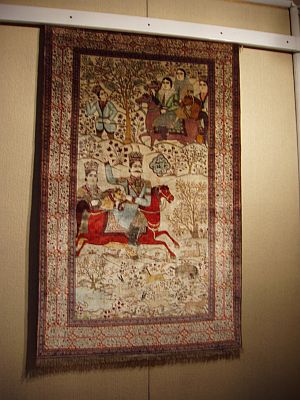 Here Mandana and Kathy stand before a 14th century carpet from Ravar-Kerman in eastern Iran. It is covered with small animals, and birds perching throughout the woven tree. Its title is 'Nationality'. The 13th and 14th century, during the Mongolian dynasty in Iran, was a brilliant period for carpet making. The museum allowed photography only without flash, to protect the carpets, and Rick did a good job even so.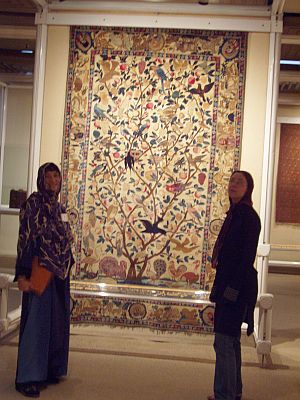 This gives you an idea of the displays. There are two floors of carpets, this is the first floor. Many of the oldest are upstairs.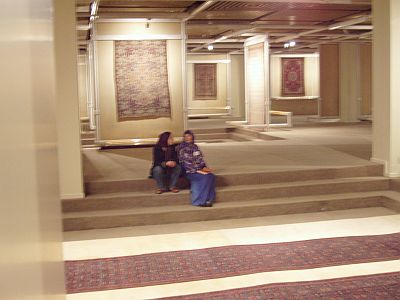 Some of the later carpets show unusual designs. During the 16th and early 17th centuries, especially duting the the reign of Shah Abbas the Great, Iranian carpet weaving had a renaissance. Sheep were specially raised for the finest wool for carpets, and vegetables for the finest dyes. Carpet studios were established adjacent to the royal palaces. This resulted in many commissions including carpets depicting royal occasions.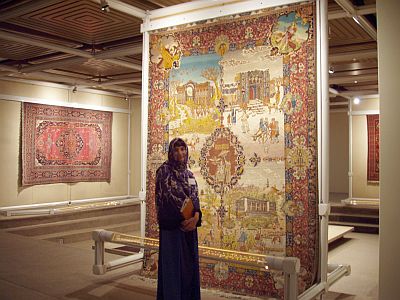 Others, oddly represented European and American scenes. There were some, (not pictured here) that portrayed Napoleon, Nelson, and Washington.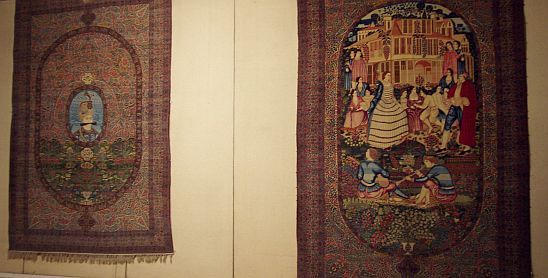 The oldest known hand woven carpet (2500 years old) was discovered by a Russian archaelogist in 1949 in a block of ice. This carpet weaver, who demonstrated for us, produced a reproduction of that carpet himself, and it is on display at the museum.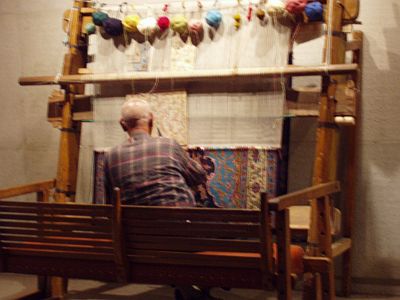 This is not a carpet. (Nor is it a block if ice.) But we did see it at the Carpet Museum. It is a floating watermelon. It was so hot while we were there, that we think perhaps one of the workers was keeping it cool for a later snack, in one of the decorative pools outside the museum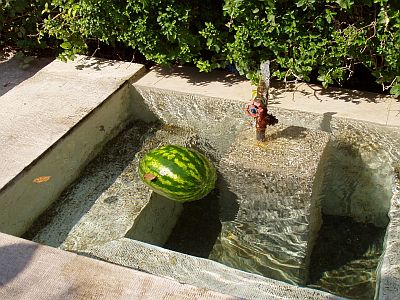 In the Lonely Planet guide to Iran one reads: 'This is a spectacular place to visit, and you should certainly come here if you have even the slightest interest in Persian carpets, although seeing the quality of these pieces will make it much harder to settle for buying something more affordable.' In the Isfahan market, after looking through a hundred carpets, but under time pressure to get on the bus to the airport, we both liked this one best, and bought it. The colors and the animals are great in our home. It is a 'Baluchi' rug. The name 'Baluchi' means 'Wanderer', and they are still a semi-nomadic tribe in the far south-east of Iran and south-west of Pakistan. We do not know a lot about carpets, but the fact that it is not associated with a famous 'rug city' like Tabriz or Isfahan, we think, made it surprisingly inexpensive. It is cotton and wool. 186cm x 98cm. Someone told us it is a wedding carpet, which seems right, especially becausze our second wedding anniversary is Tuesday.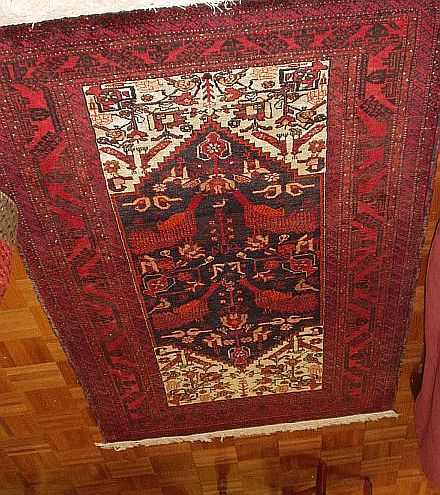 We also bought two small silk rugs (the size of placemats) for decorative purposes. One belongs to our record player.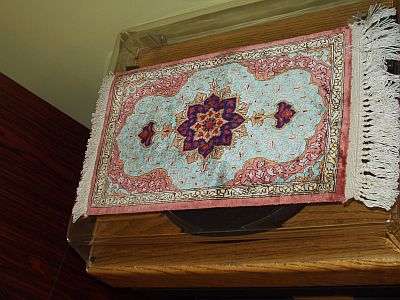 The other belongs to these renaissance flutes. (Or whichever flutes decide to take possession of it.) It is great for keeping them from rolling off our project table. Both of these flutes were made by Philippe Alain-Dupres, our host in Paris. We picked up the larger two piece one from him on our way home from Iran (more about this later), and carried it onto the plane.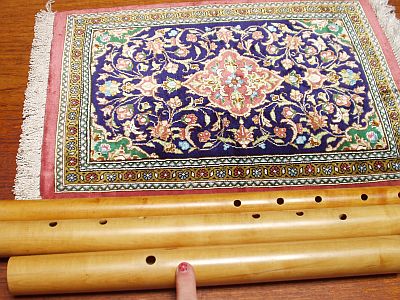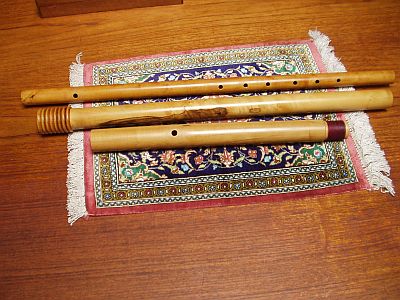 Even tinier, and less expensive were these 'Miniature Carpets'. The package inscription reads: The Best Trace from the Splendour of Orient Art'. We bought them at the Tehran craft show near the IPM building. We think 'trace' means souvenir...