A VISIT TO BEAN TOWN
STEVEN RADICE ON GUITAR
SINGS HIS OWN SONGS
IN SIERRA MADRE'S GREAT COFFEE HOUSE
>
Steven sang his own songs about house remodeling, ants, a health food advocate who got hit by an ice cream truck, the dwindling "middle class", and a love song to Sunday mornings.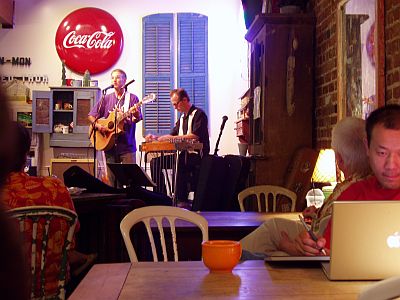 Above all, a lot of creative musical expression.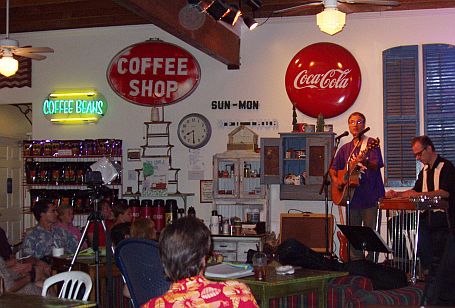 Here you get a feeling for the great atmosphere of the coffee house, and the rapt attention that Steven generated in his appreciative listeners. "Songwriters Night" Steven Radice
Beantown coffee house, Sierra Madre
We went because we thought we would hear Steven play the ukulele. Well, no ukes...but this versatile musician performed very creatively on guitar and harmonica while singing his own various and amusing songs. He had a lot to say, and we would come back again, even if he left his uke at home. Ruben Ramos, the host, was strongly musical on electric guitar as well. We enjoyed the coffeehouse atmosphere, including great coffee and ice cream. The room was full of real listeners while others were at work using the free wireless internet access, and still others enjoyed the music from streetside tables. We had only time to stay for Steven's half hour performance, there were others to follow. Music happens here every Friday and Saturday night. Amplification is not our favorite way to listen...but what can you do in a coffeehouse?—Kathy Wilson, from "The Outsider Page"
Go to the Bean Town Web Site