Kathy feels close to Maureens children, Sara and Julian, both violinists and dear people.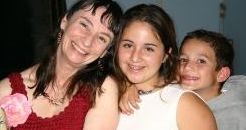 In the midst of celebration, some dear moments of conversation. Hyla Fetler and Tracy Fernandez, dear longtime Santa Barbara friends, were with us. To their right, our next door neighbor, Viola, a professor of Linguistics at UCSB, due to have a baby soon.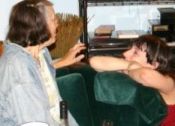 On our anniversary (the Tuesday before the party) we went to lunch at our favorite Japanese restaurant and had our picture taken. Rick gave Kathy a tiny ruby surrounded by tinier diamonds, and Kathy gave Rick the new digital camera with which he took most of these photos!

Joe Moir, of Macedonian bagpipe fame, and his wife Dominque were just back to their home in Santa Monica from their other home in the southwest of France. They brought a disc of photos that they had not yet seen. To the upper left in this photo, you can see our real wedding canopy, a sparkly cloth from India. It is placed below the entry way light, and all four bamboo poles decorated by Kathy for the wedding are there too, framing the four directions. Kathy's silk wedding bouquet (not quite visible here) is over the front door.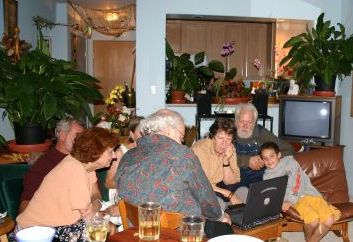 On the right is Rick's brother, Phil, to his left, Kathy's happy mother, Mary, to the left of us is Kathy's sister Maureen, and to her left Kathy's son Timothy, his son Dylan. To his left is cousin Arnold Borker.
text by Kathy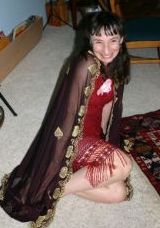 many photos by Rick